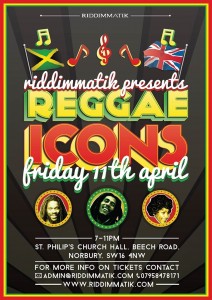 On the 11th April at St.Philips Hall, Norbury, we firstly assisted the sound company and hired lighting company in setting up the stage equipment. We also used this opportunity to unload any other resources needed on the night. This included the merchandise, cutlery, food, drinks, costumes and more.
We tried our best to keep to the times schedule.  We realised on the night that we gained more helpers to delegate roles too. For example, a friend from the sound company helped on the door with ticket collection or sales and raffle tickets, also our neighbours helped to sell the Reggae Icons merchandise. Security was also employed on the night too, which added professionalism, as well as for any emergencies and to prevent any trouble. The event was scheduled to start at 8pm but was delayed to 8.30pm due to a small starting audience. Events that are promoting Reggae music are often known to start very late into the evening, from looking at other event flyers. I think at times people thought Reggae Icons was a party, as the event description was not promoted on the flyer.
By the time we arrived at the interval, our audience numbers had greatly improved. The audience was very enthusiastic throughout the show, it also helped that we had a well-known radio presenter – Aboo, who interview Shanice & Amarra at Galaxy Radio, hosting the event. The Jamaican food and drinks also sold well on the night and the stalls were in good positions. The stalls were hired out to other merchandisers who sold their materials (Johnny Dollar & CM Cakes), selling black arts and crafts, a cup cake stall, and the Reggae Icons stall, selling t-shirts, programmes and other promotional leaflets.
The overall performance on the night went well and as planned. I felt that the band did a great job by delivering the music well. There was always room for improvement for the band and singers but turned out to be a successful show, enjoyed by many.  From the feedback received from audience members, they were very impressed as nothing like this had been done before. Entering into the second half of the show, everyone became much more comfortable with the atmosphere and their roles, including the audience. The lights and good sound added to the overall presentation to the night too. A theatrical setting is what we tried to achieve through the lights and seating area, and many found the need to get up and dance to the music also, which was a good sign. Despite any losses made that didn't doubt the success of the Reggae Icons Launch.